Home
Proof Society Autumn School and Workshop 2022
The 4th Workshop on Proof Theory and its Applications and the 4th International Autumn School on Proof Theory will take place on 7-12 November 2022 in Utrecht, the Netherlands, under the auspices of The Proof Society. The Autumn Workshop and School take place in the inner city of Utrecht, mostly at Janskerkhof.

We have limited funding for waiver/reduction of master and PhD student fees. Those interested should write a letter of motivation to b.afshari@uva.nl. The deadline is the 28th of October.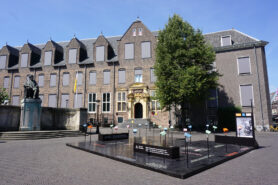 All locations are noted at the pages of the Autumn School and Autumn Workshop, respectively.
ASL Student Travel Awards
Student ASL members may apply for (limited) ASL Student Travel Awards to attend 2022 TPS events by submitting an application three months prior to the meeting. Please note that funding does not apply to students who are not a member of ASL. To apply, please visit the link below and follow the instructions:
https://aslonline.org/student-travel-awards/
Programme committee
Bahareh Afshari, University of Amsterdam & University of Gothenburg (chair)
Matthias Baaz, TU Wien
Arnold Beckmann, University of Swansea
Lev Beklemishev, Steklov Mathematical Institute
Balthasar Grabmayr, University of Haifa
Rosalie Iemhoff, Utrecht University
Joost Joosten, University of Barcelona
Antonina Kolokolova, Memorial University of Newfoundland
Norbert Preining, Fujitsu Research Labs
Andreas Weiermann, University of Ghent
Local organising committee
Bahareh Afshari, University of Amsterdam (co-chair)
Saul Gebhardt, Utrecht University
Sophie Glade, Utrecht University
Menno Hellinga, Utrecht University
Rosalie Iemhoff, Utrecht University (co-chair)
Raheleh Jalali, Utrecht University
Robin Martinot, Utrecht University
Thierry Orth, Utrecht University
Robert Passmann, University of Amsterdam
If you have any further questions, please do not hesitate to contact us.